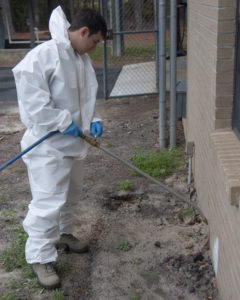 Pest control is rarely at the top of one's mind for potential career options. Yet, pests are everywhere. As long as that fact remains true, the pest control industry is a strong choice for stable employment. Depending on your location, pests can be a seasonal problem. It can be a year-long battle to treat homes and prevent pests from returning. Another strong factor is that it affects both residential and commercial real estate.
The best pest control is preventing them from showing up in the first place. No area or region is immune to this problem.
That is why choosing a career in pest control is a responsible and possibly lucrative choice.
What is Pest Control?
Pest control is simply the removal of unwanted pests including bugs and rodents.
Bureau of Labor Statistics
Let's take a look at some quick facts from the official source:
| | |
| --- | --- |
| 2016 Median Pay |  $33,040 per year / $15.88 per hour |
| Typical Entry-Level Education | H.S. Diploma or equivalent  |
| On-the-job Training | Moderate-term on-the-job training  |
| Job Outlook, 2016-2026 | 8% (As fast as average)  |
| Employment Change, 2016-2026 | 6,300  |
Source: https://www.bls.gov/
Industry Outlook
As referenced in the table above, the Bureau of Labor Statistics projects an 8% growth in the pest control industry over the next ten years. This is in line with most of occupations. Yet, only a limited volume of people can work in the field.
Workers have to be somewhat physically fit. The job requires you to kneel and bend often. Workers must also be willing to handle chemicals and occasionally work weekends. These requirements limit the number of people that can become a technician or applicator.
If you capable and qualified, it is likely you can secure employment and begin your career.
Where Do You Work?
One benefit for pest control workers is traveling to different locations each day. Another benefit is that pesticide applicators often can choose their own work schedule. If you enjoy working outside, pest control technicians typically have new clients to visit each week. Most companies assign applicators a route which will grow or change over time.
Very little time of your day is in the office and you might even get a company vehicle to drive. You may also get use of a company cell phone. It's very important that pesticide professionals are available to office staff. New clients and emergencies can affect your schedule.
Pest Control is a Regulated Industry
Pesticides and other treatment chemicals are governed by the EPA. A regulated industry ensures safety for both clients and workers. Companies have to maintain certain environments to store materials. They must also follow state procedures and train employees on industry standards.
Continuing Education Courses for Pest Control
Pests evolve and weather affects our environment. The industry and its regulations continue to change. Because of those changes, technicians and applicators have to maintain certification through pest control continuing education courses.