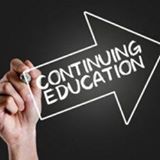 Are you planning to start a new journey on your career path? Are you hoping to advance your position in your current trade? Either way, your chosen industry may require certain state certifications before you can begin legally working in your desired field. That is why it's extremely important to make sure the training you receive is state-certified by the right online education provider.
At All Star Training, we offer certifications in 12 different industries spanning across 48 different states (note: not every course is offered in every state). After the course, your scores are automatically reported to the state board. See this page to view our full catalog of certifications.
But just like not all careers pay the same salary, not all continuing education providers are created equally.
Any reputable course provider should offer the following:
A fully secure website with clear SSL protection (look for a security badge)
Clear contact information including a phone number
After-hours support
More Benefits of All-Star Training
In addition to those benefits, at All Star Training we offer a Low-Price Guarantee and online courses that are easy to use. We've helped tens of thousands of students gain or renew professional licenses in the 10+ years we've been in business. The best part about our platform is that you are welcome to advance at your own pace. Our courses are available online 24/7 and available to practically anyone with a stable internet connection and functioning modern browser.
If you're not sure how to locate course providers that are recognized by your state, we recommend browsing official state websites (typically .gov). For example, here is the official page for the state of Alaska's Certified Pesticide Control Program. You'll notice at the bottom they link to official course providers (including All Star Training).